Why Shoppers Prefer Paper Bags

Due to tough economic times, most major food stuff manufacterers are becoming particular how they package their products. A casual glance at the isles at the supermarket will tell you that most food is packaged in plastic or paper bags. While plastic bags have been very widely used, there has been a recent shift to paper bag products because of their cost and the fact that they are environmentally-friendly.
For decades, plastic bags have competed toe-to-toe with paper bags, from the manufactering plants to the retail supermarkets. In many countries now especially the United States, shoppers at local super markets and retail chains offer their customers the option to have their products bagged in plastic or paper. While many customer still value plastic because of its durability, water-resistant nature and also the fact that it is extremely reusable, paper bags are also wildly popular.

One of the reasons why paper bags are popular is because of safety. Plastic bags have been responsible for many deaths especially for small children. This is because children are fond of playing with plastic bags and one of the ways in which they do this is to place the bags over their heads. In the event that the child is unable to free themselves fast enough, death by suffocation can occur. This is one major reason why shoppers prefer paper bags to plastic bags.
Another reason why shoppers prefer paper bags is because they are easily disposable. While plastic bags have obvious advantages, they tend to litter the house because most people reuse them. This can cause an environmental issue especially it there are wrong disposal. If disposed of wrongly especially in areas with farm animals, these animals can swallow these bags and suffer health repercussions. One major disposal issue that environmental proponents fight about in regards to plastic bags is the way recycling plants handle them. While recycling has been welcomed by many as a safe way of getting rid of plastics that have outlived their use, it has since been discovered that they are incinerated thereby releasing harmful toxins into the atmosphere.
Paper bags are light, safe and can be easily discarded after they are used. They therefore pose no threat to small children or to the environment. Although the chances of paper bags causing a fire exist, the chances are slim compared to dry grass during summer. When children play with paper bags, they end up shredding them and therefore they pose no imminent threat.
Paper bags are also extremely cost effective for the retailer and in most supermarkets, they are free with any purchase. This may not necessarily be the case with plastic bags where in countries such as Ireland, pose such an environmental hazard that an additional charge is passed on to shoppers who want to carry their grocery purchases using plastic bags.


Plastic shopping bags are wasteful. Worldwide, more than one million plastic bags are used every minute. Americans dispose of 100 billion plastic bags every year. That's the equivalent of taking 12 million barrels of oil and dumping it down the drain (Today Show, January 2008).
Shop with a fresh, "retailer neutral" collection. It's Only Natural Gifts bags are graced with beautiful images ... shop with them at any store with a clear conscience.
Schlepping made easy! The wide 6" gusset makes it easy to pack the shopping bags fully. The heavy canvas stands up to the trials of every day shopping (these bags don't rip or tear!). Bags stand up in the car or on your kitchen counter. The durable woven handles are comfortable in your hands or over your shoulder.
A penny saved .... Many grocery stores offer money back credit when customers bring reusable bags.
Our spunky canvas bags are a beautiful gift on their own; even better when given with the wonderful organic ingredients. Reminder bags are intended to go on a doorknob and work well for holding keys, CDs, MP3 players and sunglasses as you head out the door. Carry a few grocery size totes in your car for regular shopping trips, and use the small totes for errands, library visits, etc. It all adds up to a smart and natural alternative to plastic bags.



The Coolest Resusable Shopping Bag
We can always count on Velocity Art & Design to bring us the best, newest and coolest products. How's The Vere Bag for a non-frumpy reusable shopping bag? These are so fancy that they could be used around the house, for something like containing umbrellas in the entry or holding blankets in the living room.



Shoppers Bag
Bring Your Own Bag



Bring Your Own Bag : Reusable Bags Waste Disposal : Planet Green
This tip is an oldie but goodie: bring your own bag, whether you're making a last-minute dash to the grocery store or you're off on a leisurely afternoon jaunt in the city.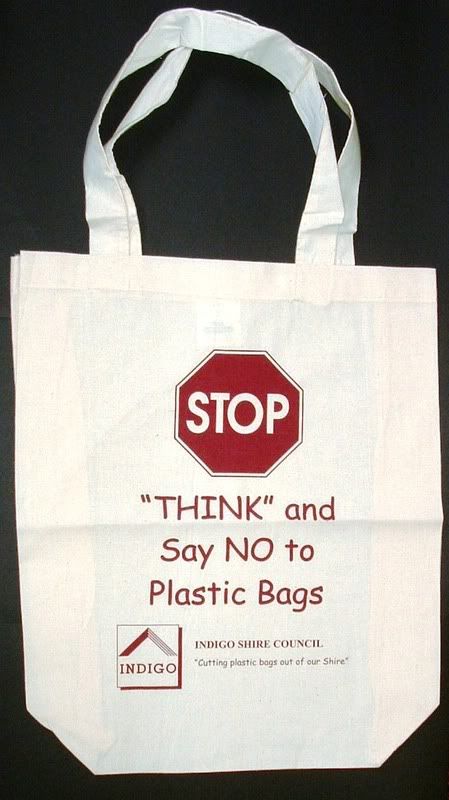 With each disposable plastic bag taking close to an entire millennium to break down, plastic bags are a formidable scourge on our environment and wildlife. (Thousands of marine animals die each year after mistaking plastics bags for food.) Our flirtation with disposables has already come back to nip us in the karmic tush-a swirling vortex of plastic trash the size of Texas in the North Pacific Ocean is entering the food chain through toxins that have been fingered for everything from obesity and infertility to cancer.


ENVIROSAX


These are stylish, waterproof, lightweight bags that are sturdy enough to hold the equivalent of two plastic grocery bags. They come in two design collections: graphic and organic. Buy them individually or (this is cool) purchase a pouch of five that is small enough to fit in your glove compartment. It doesn't get any handier than that!
GREENER GRASS DESIGN

Choose from a small and large shopping bag, made from the same coated nylon used to make kites. The bags feature a simple yet bold design and color combination. We like the pink and green for spring.

BAG THE HABIT

This a modern shopper collection that is 100 percent recyclable and made from recycled PET (i.e., soda bottles). Each bag features the company's leaf logo and the color combinations are wonderfully soothing. We are partial to the brown versions

I'M ORGANIC

These organic cotton totes fall into the "cute," maybe even "adorable" category. Check out the "Kiss Me I'm Organic" design featuring large pink lips.

BAGGU

One Baggu replaces 300-700 disposable bags per year, according to the company. Made from a rip-stop nylon material, they can hold up to 25 pounds. We love the handles, Baggu Reusable Shopping Bagswhich are long enough to go over your shoulder, and the colors, which are out of this world. Best of all, each Baggu folds into a small pouch ideal for purse or pocket


Eco Totables Reusable Shopping Bags ECO TOTABLES
These are sturdy bags with cute sayings, like "It's in the Bag" or "Zero Plastic, Zero Paper." Most are made using either recycled or recyclable materials, like the "Farmer's Market" tote, made of recycled cotton and recycled soda bottle material. Here's some innovation… Check out the "Expandable Grocery Cart Shopper Tote," that clips onto thesides of your shopping cart.
Envirosax Organic Bamboo Bag



Using a reusable shopping bag is the least we can do for the environment. By swapping up the ugly plastic or paper bag with reusable grocery bags you'll save our earth while maintaining your sense of style with eco friendly fashion! And if you live in the US you have no other choice than to get one since most major grocery stores have banned plastic bags ;-)


Just think about it. If enough people do them, then little changes can make a big impact.

Reusable shopping bags are available in a wide range of cute designs so you don't really have to stick to the plain ones.

You can choose between the abstract printed designs (polka dots, stripes, floral), the fun statement organic shopping bags with a non-discreet logo that says save our earth or any other eco friendly-stated images, and of course the plain canvas styles. The choice is yours!

I have been using canvas totes to bring my groceries home for almost 6 months! But its time to get everything to think this way. Wild Oats use to donate money to charitable funds when you brought your own bags. However, now most stores like Ralph's and Whole Foods will give you a 5 cent bag refund.

I have received lots of comments about how cute the canvas bags are and how big they are. And I know when they see my bags, the too are starting to think about getting bags of their own. Little by little we can help the environment cut down on plastic bag waste.



Cambodian Re Rice Bag


Eco-friendly, reusable, reversible and eye-catching, you can't fault these fantastic shopping bags. If you aren't already sold on them, here's something that I know will tip you over the edge. They're not made in sweatshops. Oh no! They're made by an organisation who provide shelter, education and employment to vulnerable women. Isn't that just the coolest? Fair trade all the way baby!

Earth Fair Trade Shopping Bag
I just love products that display their Fair Trade credentials for all to see. It's the perfection of advertising as far as I'm concerned, using something that can be so destructive for a good cause. This cute bag features a Fair Trade Bag logo surrounded by jaunty figures on the front and has delicate beads hanging off one strap. Buying this bag helps to fund health-related projects in India. (£7.00)
flip & tumble reusable shopping bags
I got a Flip & Tumble reusable shopping bag recently and I've been trying it out in a lot of situations. It's a great bag, it's even fun, but I don't like it as much as Envirosax or RuMe bags for a few reasons.

First the good stuff. Flip & Tumble bags are strong, come in cool color combinations, have a felt pad at the shoulder to keep the bag from sliding off while you're carrying it. The best part, though, is the way it's been designed to stuff into it's own little stretchy pouch which is attached. You just stuff it in and pull the lip of the pouch over and you're done. You can see some pictures and a video of the process here to get a better idea. You don't have to worry about folding the bag up the correct way (think, folding up a map) in order to stow it. When it's in it's pouch it's about the size of a tennis ball and very light weight, it's fun to toss around and easy to keep in your bag.


There are a few reasons I don't find the bag ideal for myself. The Flip & Tumble bag only has one handle and when I was carrying a few heavy items home from a store I found the strap dug into my should uncomfortably. So much so that I stopped and transferred everything into a RuMe bag. I suppose the weight distribution over two handles was enough to make it more comfortable because I didn't have same problem. The handle of the Flip & Tumble bag is so long that if I hold it like a tote it drags on the ground. Now, I'm about 5'2" so this may not be the case for everybody, though it almost looks too long for the model in these pictures as well. How much time I actually spend carrying reusable bags like totes (instead of over a shoulder) is debatable, so it might not be as large a disadvantage as I'm making it seem. However, the long handle also means that when I'm carrying it over a shoulder the weight in the bag hits me a bit lower on the hip, just at a spot where the bag will constantly swing and bang against my leg as I walk. Again, I'm short so this won't be a problem for everyone. With these things in mind, Envirosax and RuMe bags work out a lot better for me.
More than just groceries
They're perfect as overnight bags. The bag Riley and I refer to as his 'cartoon bag' (Baa Maa & Paa) is always packed and ready to go with him for his weekly sleep over at his Nanna and Poppy's house or when he goes to visit his Dad overnight. I have several of my bags filled with balls of yarn, waiting for the day when I start to crochet again. I always carry one or two bags in my hand bag when I'm out with Riley, for when I end up carrying the things he insisted he would carry himself.
Long handles are useful
One of the things I particularly love about Envirosax bags is that the handles are long enough to fit over your shoulder. Since they're built strong enough to put quite a load in them, having an option other than to dangle heavy things from your elbows is a good thing. The length of the handles means that you can tie the top of the bags together to stop things falling out when they're rolling around in the back of your car, yet they're wide enough to not dig into your arm or shoulder when you're carrying a fair bit of weight.